My dad left the family home when I was about two, or maybe three years old. I don't really know the details, but from time to time there are hints and flashes of memories where he appeared to be a grumpy sort of bloke. After he left, birthdays were accompanied by a card in the mail, with a five dollar note. The card didn't say much, but the five bucks of mad cash, well that sure was something in those days. Lollies at the local milk bar could be had for a quarter cent in the Seventies, and all the while the background music blaring away in the shop was of rock bands such as The Bee Gees, ELO, and not to mention the local mega band Skyhooks. Those bands ruled the airwaves, whilst I'm guessing they made mega bucks.
My mother ended up as a single mother, and I was the kid of a single mother. She was pretty cool, if a somewhat difficult personality from time to time. Anyway, my mother listened to radio station 3XY, and that was way cool back then. During the Seventies that radio station attracted something crazy like a quarter of the cities entire radio total listening audience. Rock music was in, classical music was out, and that was what I grew up listening to.
So the household comprised a single mother, two older sisters and then there was me. As the youngest, and only male in an otherwise all female household, I was at a distinct disadvantage. As well as rock music, my mother was also a fan of bottle feeding.
Eczema has long been a mostly manageable, but recurring problem. At about ten years of age when a spot on my groin became inflammed, I asked my mum for help. She used forceful words to pressure me to drop my pants then and there and submit to an inspection in the presence of my sniggering and curious older sisters. I learned then that words have a power of their own, and thereafter adopted a fierce independence.
My grandfather, who was my mothers father, was no fool. He could see how things were playing out in the household, and each Sunday he took me under his wing and we spent time together. Generally that time together involved him directing me to do work around his epic vegetable garden. It was a bit Mr Miyagi from hindsight, but he taught me the rudiments as to how to be a male of the species. Those lessons could not possibly have been learned at home.
The old bloke was gruff, but otherwise he was OK. He was born in 1924, and grew up on a farm in the inland Victorian township of Kyabram. For reasons unknown to me and probably now lost to time, he was raised by his grandmother, who he recalled to me as a stern disciplinarian. As a child, the area he lived in was hit doubly hard by an epic drought coinciding with The Great Depression. At the age of 15, World War II kicked off, and by his 21st birthday he was involved in the bombing of the city of Dresden. That old bloke, he saw some things.
So it hardly surprises me that the guy was gruff. But despite that he was the consummate networker and knew all sorts of people from all walks of life. When I was a really young bloke, he used to take me camping up in the alpine country with his WWII mates. They were old fellas then, and I had the job of running around and doing errands for them, before quietly slipping off into the surrounding forest on an adventure. They didn't seem to care that I disappeared, and possibly that was the desired outcome from all of the errand running they put me to.
Those old blokes also exhibited a fierce independence. They'd constructed their camp on a really nice location on a bend of the Jamieson River. They had cleared the site, and even erected a permanent heavy duty tent. It was all on government land, of course. From time to time I'd hear big talk of recriminations, if the government ever dared clear the camp site. And I wasn't entirely sure that they weren't being serious.
As I grew into a young adult, my grandfather and I parted ways. I was comfortable with that situation as he'd taught me what I could learn. Obviously there was more that he could teach me, I just wasn't receptive to the lessons. And as happens with older folks, my grandfathers wife eventually died. In a surprising turn of events, he married a much younger lady with a family of her own. My mother, who could possibly never dare let a sleeping dog lie, was always at pains to remind me that his new wife was younger than she was. I didn't know what to make of it all, other than it didn't fuss me.
Within a few months of the editor and I getting married, my grandfather died. Before he died, we met him in his lovely city office, which overlooked one of the oldest buildings in the city: The Mitre Tavern, which was constructed in 1837. Never one to mince words, I recall him saying to me that: "Mate, I'm f!@#$%d!". We spoke for an hour or two, and he implored me to take responsibility for repairing the relationships within my family. It seemed like a big call, especially given that I was the youngest and there was nothing whatsoever in it for me to spend the personal energy on his project. At the time I believed that the older generation has the greater responsibility for fixing such problems, and I still believe this to be the case today.
I'd been pondering the question of responsibility recently when the other evening I had a chance conversation with a guy I know who works as a chef. For those who may not know, due to the closure of Australia's international borders due to the health subject which may not be mentioned, there is a shortage of chefs. So the guy was telling me that he was working for a pittance, couldn't afford to live in the area he worked, and had to travel an hour each way. And apparently due to the staff shortage, he was being pressured to work extra days each week. I'd describe him as being: disgruntled.
The conversation would have surprised me, if I hadn't been reading of other employee shortages in other parts of the state, and for much the same reasons: There are rural towns where the people who have to perform paid work, can't afford to live anywhere near the town. It would be funny if it weren't also a dire problem: https://www.abc.net.au/news/2021-04-24/apollo-bay-healthcare-crisis-due-to-lack-affordable-housing/100087066
I've been a visitor to the seaside town mentioned in the article since I was a late teenager. Many long years ago, the editor and I even became engaged not far from that town. I have nothing but warm feelings for the place. But reading stories like that one, I kind of don't want to visit the place anymore.
House prices in Australia have produced winners and losers. And there is no getting around it, inequality is rising rapidly. By and large the winners are actually older folks, so there is a good case that they must bear more responsibility and burden for fixing this situation. After all, it is not lost on me that my mother was a single mother, and yet in the Seventies, she could purchase a house and put three meals on the table. I doubt that this outcome is possible today for a single mother. And everyone seems to be so caught up in self interest that nobody wants to back down from their wins.
The weather this week was pleasantly warm and sunny, before turning astoundingly cold and damp. Occasionally on those cold days, the sun would peer between the merest of cracks in the thick clouds and delight us with a rainbow over the valley.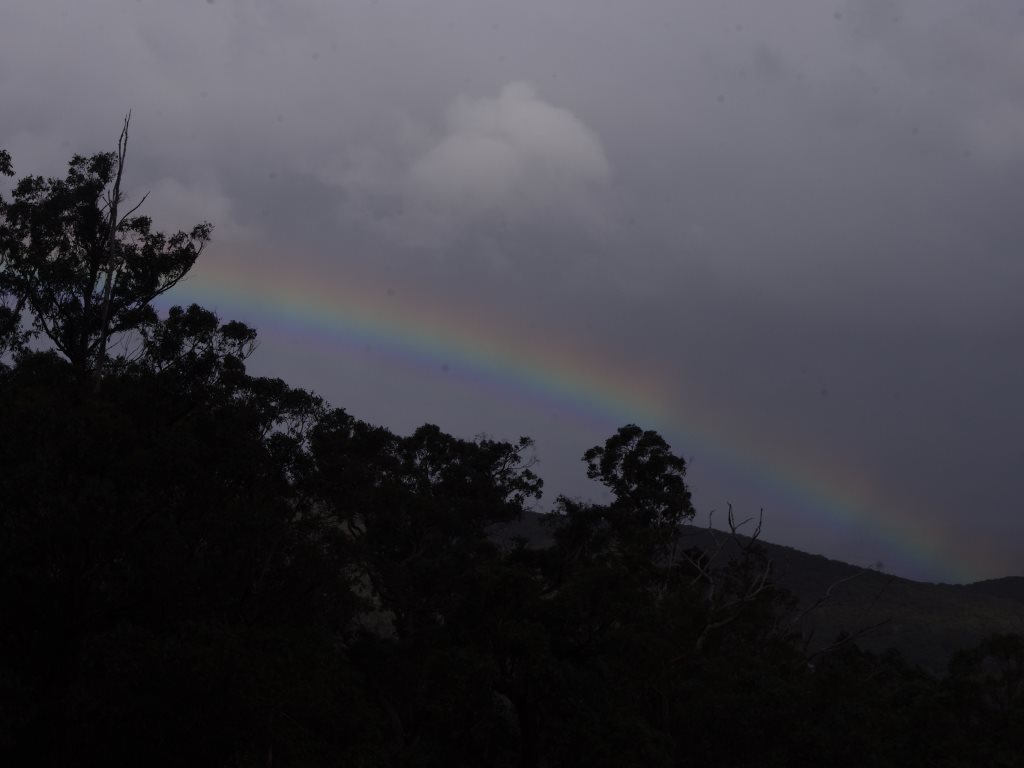 Saturday morning was rather brisk but frost free due to the rain and wind. Still, 2'C / 36'F is a very cold morning.
My sore shoulder continues to be sore, but is slowly getting better. Breaking rocks and moving soil is off the menu for now, but that doesn't mean that we couldn't clean up the vegetable garden terrace beds.
Most of the vegetation in those garden terraces had to go. The remaining tomatoes had turned red a few weeks ago, but they have an unpleasantly mouldy flavour.
The middle garden terrace has a path running down the middle of it. The path has proven its worth and is being used as a major thoroughfare. Whilst cleaning out the summer vegetation from that garden terrace, the editor came up with a good idea of formalising the path. We just had to somehow obtain 24m / 80ft of rocks with which to line the path. Sadly for us Peak Rocks is real.
Peak Rocks does not mean that there are no rocks to be had, we just have to use a lot more energy and effort to obtain any rocks we require for projects around the farm.
The next day, the now rock lined vegetable beds received an excellent feed of soil food. A half cubic metre (0.65 cubic yards) of compost mixed with hundreds of kilograms (pounds) of various mineral stuffs was then placed into the garden beds. And a half cubic metre of the locally quarried crushed rock with lime was placed onto the path so as to provide an all weather surface.
The following day another half cubic metre of the locally quarried crushed rock with lime was placed over the surface of the new path. Given the path traverses a terrace used for growing vegetables, the slow release of minerals from lime on the path will do wonders for the soil over many years to come.
Whilst removing vegetation from the garden beds, we also removed every second globe artichoke plant so as to give the plants more room to grow. The plants produce prolifically for much of the year (excluding the winter months) and they are a very tasty vegetable.
The other higher terraces for vegetable beds also require attention, and we began removing the vegetation from them. At this stage, the tomato vines have been removed, but there remains a lot of mess still to clean up.
Onto the flowers:
The temperature outside now at about 9.00am is 7'C (45'F). So far this year there has been 429.2mm (16.9 inches) which is up from last weeks total of 384.2mm (15.1 inches).